Discover more from Eine Bien 🐝
I hyper-fixate about the future🔮 Technology, economics, and much much more 📈 👩‍🌾 Subscribe to learn about everything I love ✨🚀
Over 5,000 subscribers
Weekly Learnings - Japanese & Clouds
Japanese & Clouds
Hey! Bee here.
If you've received this email, it's because you subscribed to Technologically Clairvoyant. This is a similar newsletter but I focus on more of what I've learnt.
Learning Japanese
Recently, I have been learning Japanese and I'd like to talk about it!
So firstly, the why.
My 2 main target languages over the last ~4 years have been:
German

Mandarin
(And Spanish, but I haven't done that in many, many years).
German is fun & all, but I'm only really learning it to talk to my friends. I don't really have connections to the culture, nor does it particularly excite me. Nor do I want to move there.
Chinese was really fun. The culture is completely different, the language is different, and I can image visiting Shenzen with the joy I felt visiting Lego Land as a child.
However, there's been increasingly questionable things about China in recent years. I'm not a politics blog, so I won't talk about them. And my ideas about them might be wrong — but there's somethings that I can verify as facts that I just do not vibe with.
Also, I have very few Chinese friends. And the ones I do have, they either speak Cantonese and hate Mandarin or have dialects that I couldn't understand.
I knew I wanted to learn an East Asian language, as it was so exciting to learn Chinese. This leds me to Korean.
Korean's an incredibly exciting language. Beautiful alphabet (hangul), amazing drama shows, good music. And a beautiful country!
I have very little exposure to the Korean language, and it was hard. Until I saw that "Japanese and Korean are similar" on a Reddit comment.
Japanese — oh!
I'm exposed to Japanese daily.
Karate (done in Japanese)

Anime

JPOP

Japanese Films (which I rather quite enjoy)

The fact that I have Japanese friends who actively teach the language to others
It just made logical sense for me to learn Japanese.
Okay! Now we got the boring stuff out of the way, let's talk about what I've learnt so far.
Hiragana
The first thing any Japanese learner should learn is Hiragana. This is one of the 3 alphabets that is used.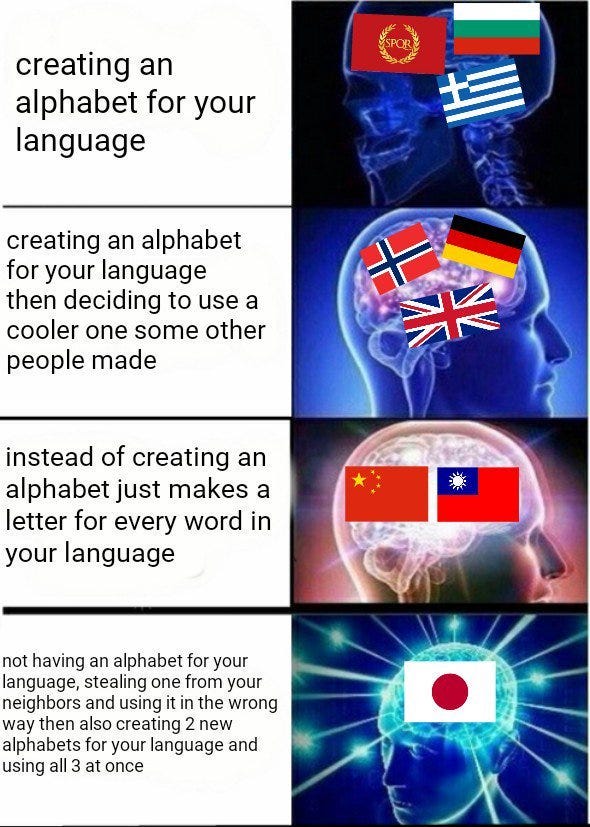 There's really no easier way to learn this than ToFuGu's ultimate guide to Hiragana.
Duolingo
:L
Duolingo is good! It's better than nothing. In the running world we have a saying:
No matter how slow you are, you will always be running laps around those who sit on the couch.
But…. it's not the best.
It's a one-size-fits-all approach to learning. As in, the lssons are structured the same way for every language.
There's no way to write anything but romanji (western version of eastern alphabets / symbols). Duolingo provides a drag-and-drop interface.
When I say write something, I mean digitally. I don't really believe in writing physically the letters (hiragana) by hand. When was the last time I physically wrote in English? Easily my university exams.
Japanese is the same, most people write digitally. And to write digitally, all you have to do is have the keyboard and remember the romanji for it.
I started with Duolingo, and I still use it (I have a 365 day streak today, I can't stop using it!) but it could be far better.
Lingo Deer
Lingo Deer is the Duolingo for eastern languages (and also some western languages).
In my opinion, Lingo Deer is better than Duolingo in every way.
The most important difference is that Lingo Deer takes advantage of spaced repetition, whereas Duolingo does not.
Lingo Deer builds vocabulary flashcards & grammar to help drill the language. SRS is important in language learning. In fact, it is the only way to learn a language.
SRS to me is the same as language immersion, you hear / use the language so frequently you learn it.
I highly suggest Lingo Deer over Duolingo any day of the week.
Pimsleur
Pimsleur's only job is to get you speaking in the language as fast as possible. They forgo the written system.
They even forgo grammar to a certain extent (although you learn this by talking).
With Japanese since it's very hard to learn without learning Hiragana, Pimsleur is quite nice as it allows me to jump straight to speaking.
I'm already noticing the phrases / words I am learning show up in TV shows / songs.
And I'm learning a little about the grammar, even if it is through speaking.
When I was a baby, my mother taught me English by making me study a textbook and completing flashcards everyday. Just kidding! She taught me English by speaking to me in English and watching me try to copy here.
TofuGu
ToFuGu is the premier Japanese learning & culture website.
There's 2 parts to the website, in my opinion:
The language learning

The cultural aspect
ToFuGu have this article called "Learn Japanese" which guides you through everything you need to learn Japanese. In fact, this is my primary resource!
They've put a lot of hard work into this. From online interactive quizzes to downloadable worksheets.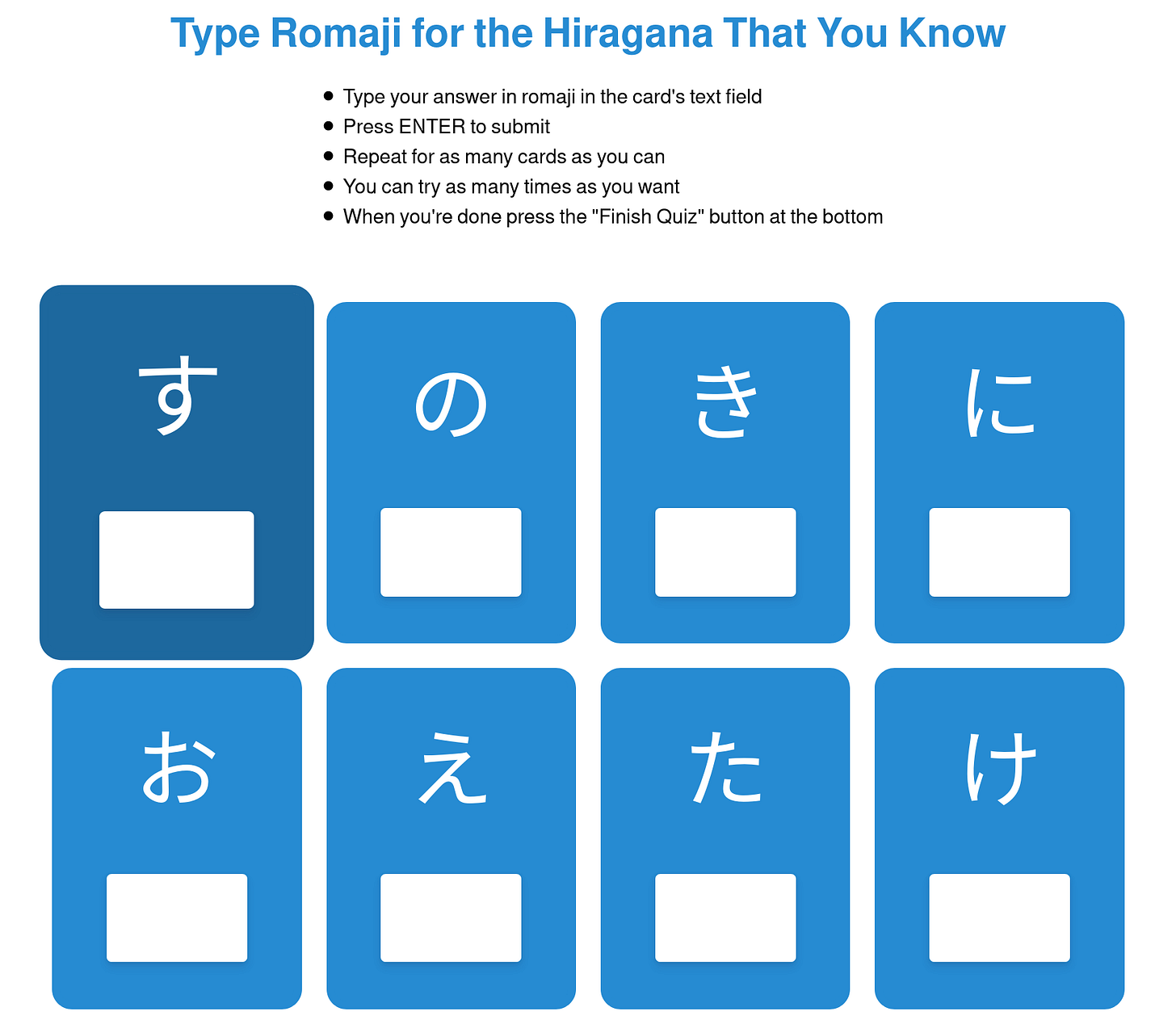 Total Immersion
What I've Learned is one of the best YouTube channels out there for autodidacts, and this video is no exception.
They explain, as a short summary, that learning from textbooks and flashcards is alright it will never be as good as using the language.
After all, that's how everyone learnt their first native language — by using it.
---
Raining Frogs & Fish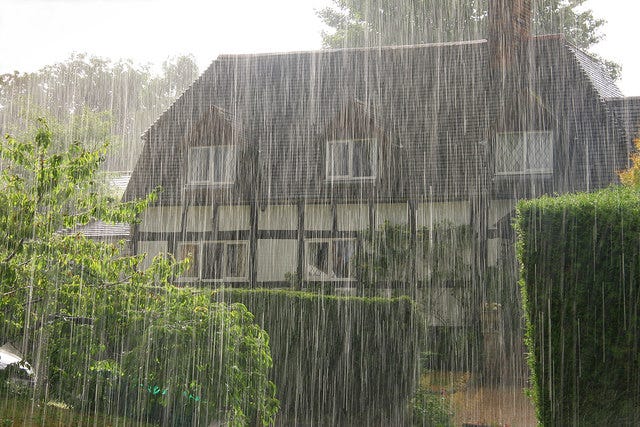 So I was talking to some friends and casually I mentioned in conversation how it is possible for it to rain small animals (such as frogs & snakes).
"What????"
Well it turns out, this isn't common knowledge. So I thought I'd share with you how raining cats & dogs likely won't happen, but perhaps raining frogs & snakes will.
It's more usually reported with flightless animals, because birds falling from the sky is a lot more normal than frogs or snakes falling from the sky.
The theory is that tornadic waterspouts pick up these animals and carry them for kilometers before they fall from the sky, however, this has never been witnessed.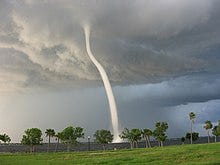 The reason why we believe it to be water spouts is because only marine (or animals very close to large bodies of water) have been rained.
The most popular type of animal-rain is fish.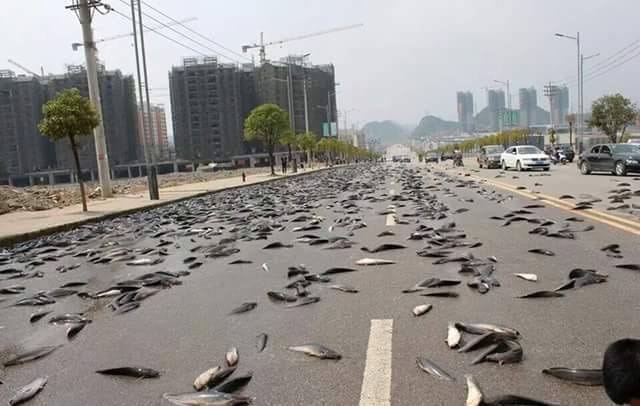 In Honduras it rains fish so much (every year, they claim) that they even have a festival for it.
Lluvia De Peces (Rain of Fish)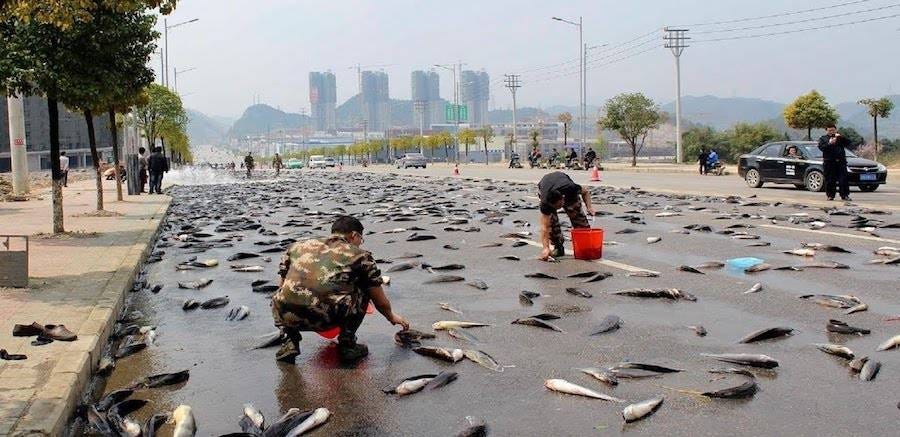 These images are from Lluvia De Peces.
Since 1998 the department of Yoro, Honduras have held an annual festival (Festival de Lluvia de Peces) to celebrate this phenomena.
Now, here's something funny.
Those fish are marine fish, they can only be found in the ocean (unless something really weird happens). How far away is the ocean?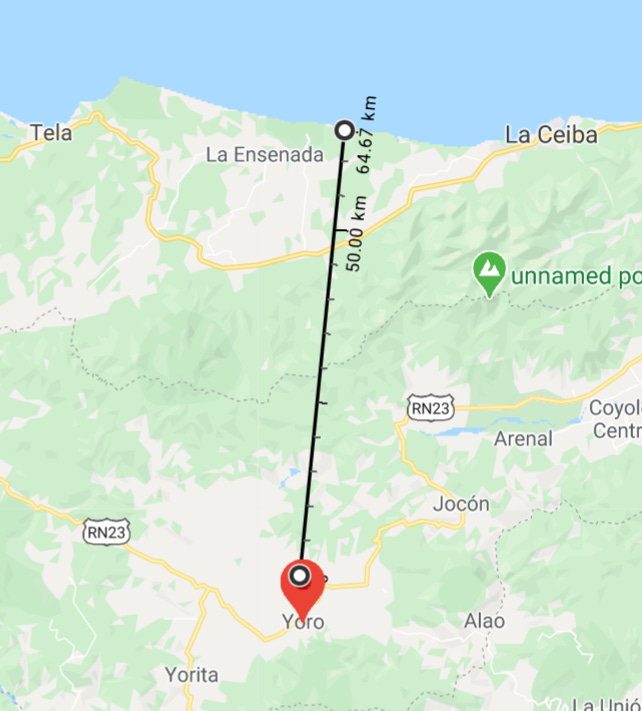 64km or ~40 miles. The fish would have to have been carried 64km to their location.
There are some towns on the way to Yoro (San Francisco) but I couldn't find any references to those towns having a rain of fish. Only Yoro.
The rain cloud or water spout will have to have held onto the fish for 64km and not release a couple of fish before reaching its destination. Which is also a weird thought, as rain clouds generally do not have destinations (but hurricanes do have hurricane paths).
But again, surely a giant water spout traveling 64km filled with fish would have been seen at least once in the couple hundred years they claim this to have been happening?
Some reports say that the animals that are rained only come from one species, not all the animals in a specific area too.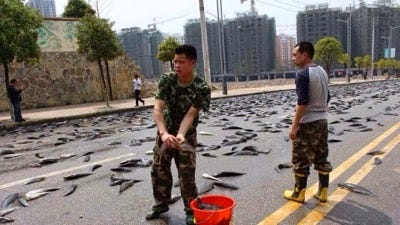 I don't know about you, but to me all those fish look similar to me.
Like most things in meteorology, it's a mystery — and it will likely remain a mystery to us. To see all recorded occurrences of the times it has rained animals, check out the Wikipedia article.
Raining Spiders
Let's take another look at a different animal. This time, spiders.
In Goldberg, Australia on 15th May 2015 it rained spiders.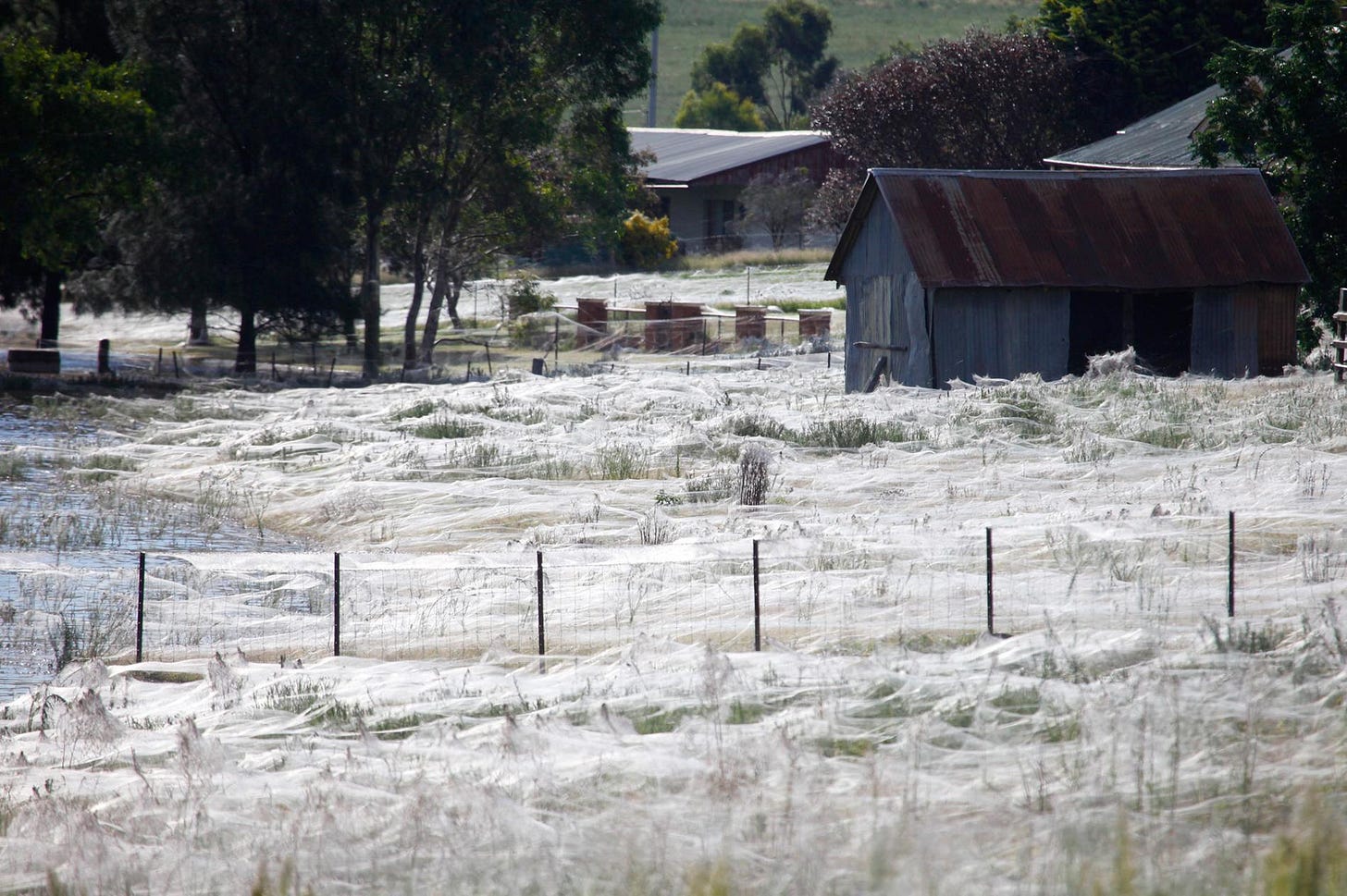 So many spiders & cobwebs that the entire town was painted with them.
Fortunately, we have a good idea on what caused this.
Spiders have this relatively common behaviour called "Ballooning".
They climb to a high area, release silk (like a kite) and take off. Typically spiders will do this in much smaller cohorts.
But it is believed that the weather conditions weren't right for spiders and thus all the spiders waited for perhaps weeks to balloon and disperse.
When the weather conditions were right, they all left at the same time and thus it appeared to have "rained spiders".
Conclusion
Rain of animals is caused by many things, and some of them are quite mysterious to us and cannot be easily explained — such as rain of fish. The largest animal I could find that had been rained was in 1887 when it rained baby alligators.
Although, it was 1887 and it only appeared in the New York Times so I'd take that with a pinch of salt.
---
If you liked this, subscribe to my email list and be kept up to date on these kind of things.